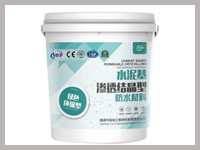 Cementitious Capillary Crystalline Waterproof Coating




Yosaite Code:

YC710


Moisture content: ≤ 1.5 %

Compressive strength, 28days: ≥15.0 MPa



Download
Description
It is a cement-based powdery rigid waterproof material with special cement and quartz and active chemical materials. It fills the deep concrete pores, capillary channel, and micro-cracks, which makes the concrete dense, prevents water infiltration channel and plays permanently sealed concretes.
Features
☆ Breathable and waterproofing performance, effective against both positive and negative water pressure

☆ Excellent permanent and continuous waterproofing and penetrating capacity of the concrete surfaces
☆ Self healing ability for no more than 0.4 mm tiny fissures in concrete interior

☆ With other materials to form a rigid-flexible composite waterproof layer
☆ Non-toxic, environmental friendly
Uses
Roads, railways, tunnels, subways, bridges, underground waterproofing and moisture-proofing projects, garages, reservoirs, ponds, caves, dams, swimming pools, sewages, etc. It can be used at the positive and dorsal side of concrete structures.
Technical Data: GB 18445-2001