Description
The geogrid is made by using high tenacity and high molecular weight polyester (PET) yarns to knit into a stable interlocking grid, then coated with a special glue to provide damage protection during installation. It can effectively improve the strength of subgrade, delaying reflection cracks in the soft soil roadbeds of road, improve the bearing capacity and stability of the foundation of dams or water conservancy projects, enhance the overall strength for embankment slope and retaining walls.
Features
☆ Resistance to biological degradation and chemicals, long service life
☆ Weathering resistance from UV degradation
☆ High vertical and horizontal tensile strength
☆ Low unit extension, high flexibility
☆ Resist to long term creep, prevent roads from cracks and deformation
☆ Convenient construction, low costs
Uses
For highway and roads construction, railways and rivers, lakes and along the coast of the retaining walls, dams, bridges, steep slopes, landfill projects etc.


Type and Specification: Standard type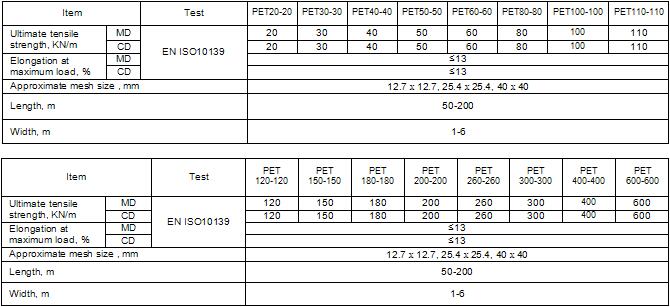 Type and Specification: Heterogeneous type