Description
Self-adhesive bituminous waterproof membrane is a "peel and stick" polymer bituminous membrane, has been formulated by using premium raw materials such as bitumen/SBS/ high tack resins with polyester felt reinforced or non-reinforcement. The silicon-coated release film as anti-sticking protection layer is easy to remove. The membrane is cold applied and installed without the use of open flames, ideal for the places where traditional torch on or fastened systems can not be used.
Features

☆ Cold applied without the use of open flames
☆ High tensile strength, good elongation
☆ Excellent cold flexibility, good weather fastness
☆ Strong adaptability to deformation and cracks
☆ Good self sealing and dimensional stability
☆ High puncture and tear resistance

☆ Good chemical resistance and anti-sticking film releasing easily
Uses

Waterproof and damp proof for roof and underground structure of Industrial and civil building, subway, tunnel, bridge, planting roofs, water conservancy etc., especially for the places where the use of torch/fire must be avoided. The substrates can be metal, wood, aluminum, stone, concretes, cement sheets, structural or plywood, insulation blocks, fiberglass, and plastic products.
Specification

Composition

Technical Data (Non-reinforcement): Executive Standard GB23441-2009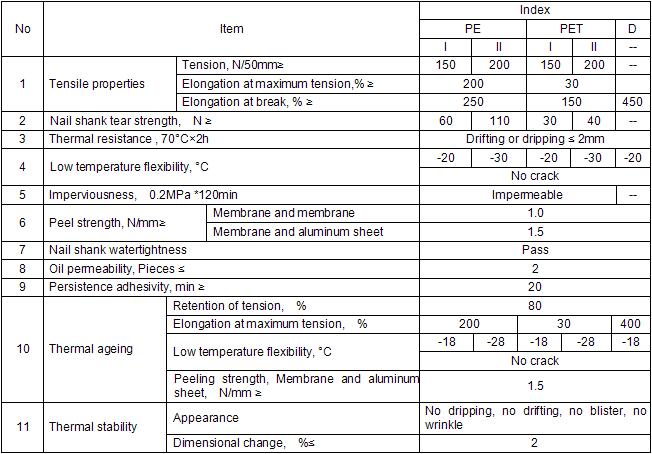 Technical Data (Polyester reinforcement): ExecutiveStandard GB23441-2009